International research suggests that successful initiatives aimed at tackling school bullying and cyberbullying are delivered as part of a whole-school approach. However, these whole-school based initiatives have been limited in their success because they have failed to recognise that the local school exists within a wider education system and community that is supported and maintained by society.
Consequently, the Scientific Committee proposes that an effective response to bullying and cyberbullying should be described as a "whole-education approach". A whole-education approach ensures that local school initiatives recognise the importance of the interconnectedness of the school with the wider community including education, technological and societal systems, values and pressures, all of which can impact on the prevalence and type of bullying and cyberbullying that occurs in a school.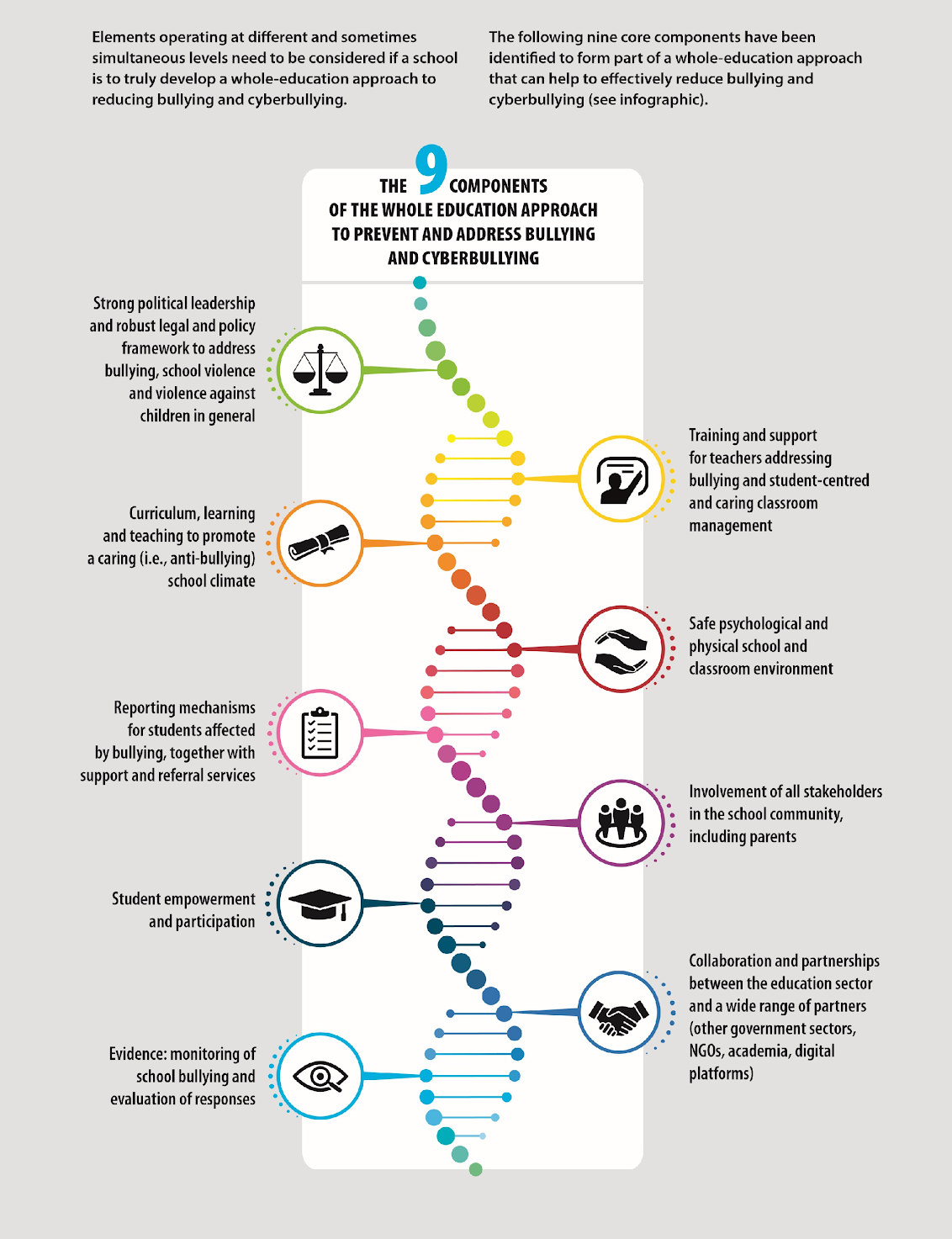 Characteristics of the whole-education approach
This whole-education approach to reducing violence and bullying in schools including cyberbullying is holistic as it provides a comprehensive and systemic framework including legal and policy influence that are beyond a whole-school approach. This approach to reducing bullying contributes to the pursuit of the Sustainable Development Goals (SDGs), in particular SDG4, which aims to ensure inclusive and equitable quality education, and SDG16, which aims to promote peaceful and inclusive societies. By proposing this broader approach to school bullying, the education system can be even more inclusive and sustainable for the future.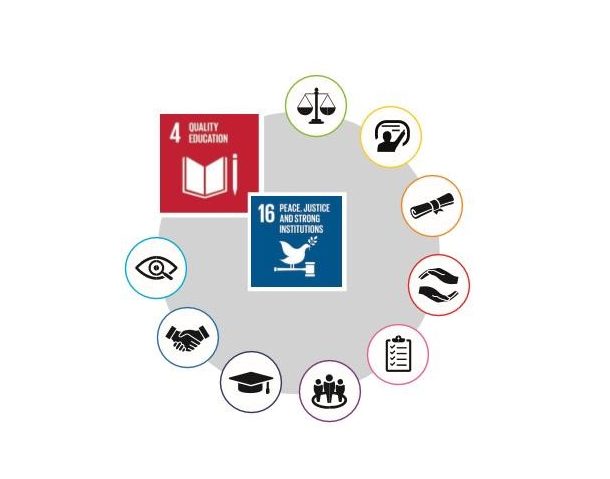 The Scientific Committee recognizes the following pre-requisites that ensure that the whole-education approach to bullying and cyberbullying has a wide national coverage, is sustainable, inclusive and benefits all children, and is comprehensively implemented across the entire school system.
Each of the nine components is important and necessary but not sufficient alone. These should be considered as integrated elements of the whole-education approach. A coherent combination of these nine components will enhance the long-term effectiveness of responses to bullying. In summary, the 9 core components of a whole-education approach are not a menu (or 'shopping list') from which only some aspects can be selected to reduce bullying.
It is necessary to plan and implement well-coordinated systematic actions that are sustainable. Once-off measures are not effective.
This places a greater emphasis on the significance of the whole system of education underlying the commitment not only to help students involved in bullying (perpetrators and targets alike) but to make the entire education system better equipped to reduce violence, bullying, and cyberbullying among learners.
National or sub-national education authorities should design programmes that can be effectively implemented in all schools and across the network of relationships attached to schools.
Education authorities should support schools, with the implementation of bullying prevention programmes with guidance and resources.
Children and young people need to be centrally involved in designing, implementing and evaluating the nine components of the whole-education approach. Schools exist for children and young people and need to be involved in an age-appropriate manner to develop and implement the whole-education approach.
A whole-education approach, along with addressing directly bullying, should also explicitly promote positive, respectful and caring interactions.
KEY MESSAGES ON EACH COMPONENT OF THE WHOLE-EDUCATION APPROACH
STRONG POLITICAL LEADERSHIP AND ROBUST LEGAL AND POLICY FRAMEWORK TO ADDRESS BULLYING, SCHOOL VIOLENCE, AND VIOLENCE AGAINST CHILDREN IN GENERAL
National leadership is critical, as well as leadership all the way down to the school level, to champion a strong response to bullying, school violence, and violence against children in general.
Anti-bullying laws, policies, frameworks and guidelines should be provided at a national level with corresponding policies at the local and school levels.
There should be laws and policies on inclusive education that address identity-based bullying (for example race or sexuality). These should be translated into explicit policies against discrimination at the local and school levels. ⮴ Laws, policies, frameworks and guidelines should evolve and be adapted to new forms of school aggression such as cyberbullying.
TRAINING AND SUPPORT FOR TEACHERS ON BULLYING AND STUDENT-CENTRED AND CARING CLASSROOM MANAGEMENT
Teachers should be supported through training, mentoring and accessing resources such as appropriate teaching & learning materials to foster a student-centred and caring school environment.
There should be pre- and in-service training to increase teachers' familiarity with bullying prevention and intervention and to learn about how to achieve student-centred and caring classroom management and school environment.
CURRICULUM, LEARNING & TEACHING TO PROMOTE CARING (I.E., ANTI-BULLYING) SCHOOL CLIMATE
To reduce bullying, schools need to provide a student-centred and caring school climate. ⮴ Curriculum, learning and teaching, plus teacher-student relationships should all be geared towards fostering a student-centred and caring school environment.
To achieve this, student-centred teaching and learning is essential.
SAFE PSYCHOLOGICAL AND PHYSICAL SCHOOL AND CLASSROOM ENVIRONMENT 
Education authorities, school principals and other school staff should create an environment where students and the whole school community feel safe, secure, welcomed and supported.
All school staff, not only teachers, should be sensitized and supported to foster a caring school environment free of bullying.
The school leadership needs to model caring relationships. Authoritative, democratic leadership should be promoted by principals, boards, teachers and other staff.
Every bullying situation should be recognized and responded to in a timely, consistent and effective way.
REPORTING MECHANISMS FOR STUDENTS AFFECTED BY BULLYING, TOGETHER WITHSUPPORT AND REFERRAL SERVICES
Schools should have staff responsible for monitoring bullying.
Reporting channels and mechanisms need to be consistent and known by the whole school community, appropriate to different ages, and confidential.
The school system should be integrated with community support and referral services that are known by and accessible to the school community.
Students (in particular but not exclusively targets and bystanders) as well as school staff should feel they can talk about bullying to a trusted person known to them, in the school or outside the school.
Collaboration should be established with social media platforms to ensure that school communities have effective channels to report cyberbullying.
INVOLVEMENT OF ALL STAKEHOLDERS IN THE SCHOOL COMMUNITY, INCLUDING PARENTS 
All stakeholders in the school community should be involved in anti-bullying initiatives including principals and board, teachers, other school staff, students, and parents, together with other stakeholders in the wider community, such as children and adults who participate in extra-curricular activities, e.g. sports, arts, etc.
Parents, including groups such as Parent Teacher Associations, should be supported to engage on the issue of bullying.
STUDENT EMPOWERMENT AND PARTICIPATION
Bullying is a relational phenomenon that occurs within a network of people; thus, all students should be involved in prevention programs instead of focusing only on perpetrators or targets.
Bystanders play a key role in the dynamics of bullying and should be empowered to support students targeted by bullying.
Attention should be paid to the involvement of students who belong to a minority group in the design and implementation of bullying prevention strategies, to ensure these strategies are inclusive of all students.
Student-led initiatives and peer approaches to prevent bullying should be implemented in conjunction with programmes involving school staff and other adults.
COLLABORATION AND PARTNERSHIPS BETWEEN THE EDUCATION SECTOR AND A WIDE RANGE OF PARTNERS (OTHER GOVERNMENT SECTORS, NGOS, ACADEMIA, DIGITAL PLATFORMS)
education authorities should effectively collaborate with different sectors including health, social services, etc.
Other relevant sectors should provide resources and support to reduce bullying and cyberbullying, including social media companies
Collaboration between the educational sector and academia should be fostered to enable research to better understand bullying and how to reduce it.
EVIDENCE: MONITORING OF SCHOOL BULLYING AND EVALUATION OF RESPONSES
It is essential to monitor bullying within schools and across the education system.
Regular assessment of the effectiveness of preventative and intervention measures at a school and system level is essential.
Monitoring and assessment should involve both students and school staff and should include questions about the school climate.
Colm Canning
Education Project Coordinator Dublin City University