Read our
post
about the dangers associated with Minecraft and online gaming in the
Information Hub
section.
Online Gaming
Online gaming or 'Gaming' has become increasingly popular in the last number of years. Online gaming can be accessed on social media websites and gaming websites but normally takes place on computers or games consoles but can be used on smartphones also.
Online gaming can improve social skills, friendship building online and offline and aid your child's physical, social and emotional development. Some examples of these are brain training games which aids problem solving or first person role-play games which can also improve personal development, critical thinking and organisational skills.
It is important to know which games your child plays, the content, the age ratings and how to report potential negative experiences which may occur.
What Games Are Suitable for My Child?
The Pan-European Game Information Board provides ratings on games. These are on the games which we buy in a store or online, these age ratings range from 3-18 years old and vary depending on the type of content in the game.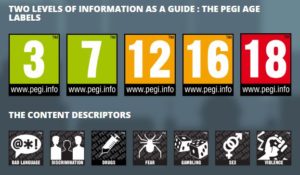 How Can I Support My Child?
Recommendations for online gaming range from one to no more than three hours per day. It is important to create a agreed time for your child's gaming depending on your child's age, decide how much time is appropriate and balance this against other tasks and responsibilities.
If your child is spending too much time online, look our for changes in school performance, changes in sleeping or eating patterns or alterations in personality. If this occurs setting strict rules for use is important to counteract over gaming and ensure that your child can come to talk to you about any concerns.
How Can My Child Use Gaming Safely?
Many games encourage chat features and collaborating with other people in the games. Ensuring these interactions are safe and your child can come and talk to you about concerns is important. Play alongside your child to learn more about the games they play, how they work and the content in the game. Your child can interact with others using direct messaging, instant messaging or speaking using a headset or microphone.
On most games these features can be restricted, you can either set them so your child can only speak with approved friends or disable chat features.
Help your child increase their privacy and annonymity by talking to them about the content they put on their online gaming profiles and how public it is.
Use avatars instead of photos
Use a nickname and not a full name
Don't use any identifiable information
Only add actual friends
Report abusive content, mute or remove any abusive contacts.