What is YOLO?
YOLO is an add-on Snapchat app that allows users to send and receive anonymous messages superimposed on photographs. The app is one of Snapchat's third party apps that developers made using the "Snap Kit". YOLO can be downloaded on the iTunes Store for iPhone users and integrated with a normal Snapchat account. When users install YOLO, they will be prompted to "invite" friends and followers with a graphic and to "send me anonymous messages" to engage with the app features.
YOLO as an acronym stands for "You Only Live Once".
How Might It Be Used?
YOLO will generally be used for fun among friends and followers, however some concerns can arise around trolling, sending and receiving hateful comments and questions, and sexting. Abusive questions can also be sent to users in such a way that operates like abusive comments.
Is This App a Concern?
Currently this app ranks as the second most downloaded app on the iTunes App Store. It resembles features similar to the Ask.fm social network that was controversial with the abundance of abusive and bullying incidences reported by bullying victims. YOLO appears to promote anonymous messaging towards users by using inviting language and pictures. The screenshots below show the process of starting up the app and beginning to use it. The most concerning aspect of the app is how YOLO prompts anonymous users to "send me honest messages" which may be conveniently interpreted to encourage abusive messages. We recommend that parents discourage their children from downloading and using this app. YOLO's features and safety procedures do not appear to be designed for the protection and wellbeing of children and others who use it.
Is It Free or Do You Have to Pay for It?
Like Snapchat, YOLO is free to download.
How Can You Tell If Your Child Has Downloaded It?
YOLO is displayed on a Smartphone in the style of an app icon. It is bright yellow with the acronym "YOLO" in bold black letters. The yellow colour is similar to the Snapchat branding. Snapchat can be identifiable on a child's Smartphone as a bright yellow icon with a ghost shaped outline in white.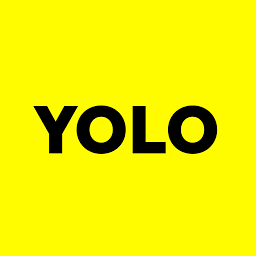 How Can We Stay Safe on It?
As the YOLO app is new, there is not much known about how users are using the safety features. This app may not have a comprehensive safety component yet, but any incident that occurs with this app can be reported via Snapchat. Be sure to understand and review Snapchat's privacy settings. The first stop is Snap Map, which you can view by pinching in on the Camera screen. Snapchat has Community Guidelines that outlines how users can report, block and restrict abusive users and should be read by a parent before allowing a child to use it. If you come across something upsetting, or if anyone asks you to do something inappropriate or that makes you uncomfortable, please report the Snap to us — and talk to your parent or a trusted adult about it.
How Do I Talk to My Child about It?
Have the conversation,
'I heard about this app which may pose some risks, I think we should talk about the apps that you are using to ensure they are safe…I don't think it's safe to use because having images like that on your phone leaves you exposed and open to someone potentially taking advantage of that. I want you to know that if you ever feel concerned about any apps or websites you use you can come and talk to me about them.'
Finally, help them to set up any apps or register for websites as you can assess the apps they use and make sure they are installed with the highist privacy and security settings.