What is YouTube?
YouTube is a well known video sharing and management site. It was bought by Google in 2006, and it is integrated within all of Google's online applications such GMail. Recent estimates are that all of users collectively are uploading 500 hours of video content every single minute.
How Might It Be Used?
All GMail users are automatically granted a YouTube account, which means that users do not necessarily have to sign up to it. Most of the time users who wish to view a movie clip, music video, or a well known video of something, they are automatically directed to YouTube to watch it. But some users are actively uploading, sharing, liking and rating video content.
In recent years, YouTube launched a "Live Streaming" function, which allows users to record live movies and encourage other users to watch it. Some television networks like Sky News have used the live streaming so that international audiences can watch their content.
Is It Free or Do You Have to Pay for It?
YouTube is free to access and use. But users may not be aware that their GMail account and other Google services like Drive, Docs and Calendar are accessible through their Google Apps. The screenshot shows how integrated YouTube is with other Google Apps.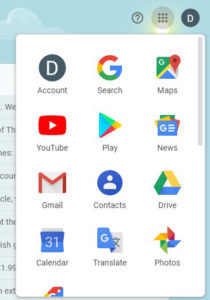 How Can You Tell If Your Child Has Downloaded It?
The integration component of YouTube may mean that it is harder to tell if your child is using YouTube. As they can access it and use it without having the YouTube App downloaded. So it would be wise to assume that your child can use it if they have a GMail account. Another way you can know if they are YouTube users is that the logo on their Smartphone will look like the picture below. Parents can also check the App Store to see if it has been downloaded.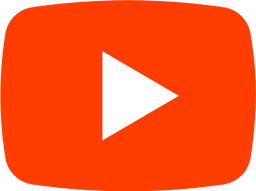 How Can We Stay Safe on It?
YouTube has a "safety mode". If a parent wants to activate YouTube's safety mode they will have to proactively do so. In the settings, Parents can select the "restricted" option which "filters" adult/ offensive content that is deemed unsuitable for younger users.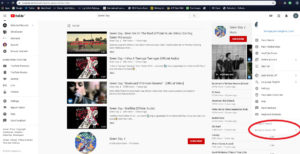 More YouTube safety mode information can be found here.
How Do I Talk to My Child about It?
Have the conversation,
'I heard about this app which may pose some risks, I think we should talk about the apps that you are using to ensure they are safe…I don't think it's safe to use because having images like that on your phone leaves you exposed and open to someone potentially taking advantage of that. I want you to know that if you ever feel concerned about any apps or websites you use you can come and talk to me about them.'
Finally, help them to set up any apps or register for websites as you can assess the apps they use and make sure they are installed with the highist privacy and security settings.