A Guide to the 'Snap Map' Feature on Snapchat
Snapchat have released a new feature the 'Snap Map'. The feature can be accessed by pinching the Snapchat camera home screen.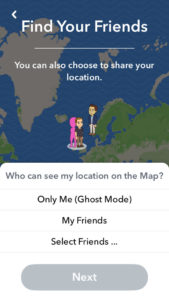 The feature allows your connected users on Snapchat to see your real-time location. The map is precise and shows the exact location within a few meters.
Users can choose to share your location with:
(1) All your friends
(2) Selected friends
(3) None of them by selecting 'Ghost Mode'.
We would advise that due to Snapchats popularity that parents aid their children to enable 'Ghost Mode'.
To enable this you click on the settings on (the cog) whilst on the SnapMap screen and tick the option 'Ghost Mode'.
For information visit: https://support.snapchat.com/en-US/article/location-snap-map